Awesome Energy (Dalriada) Ltd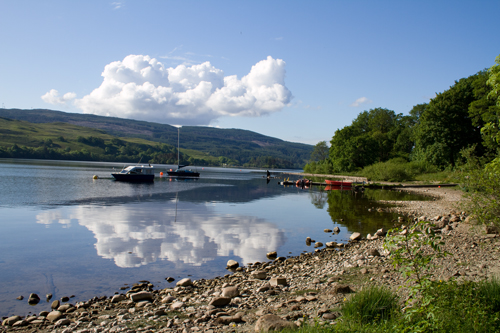 Loch Awe shoreside, near the village of Dalavich
Who is Awesome Energy (Dalriada) Limited
Awesome Energy (Dalriada) Limited is the Community Benefit Society set up by Dalavich Improvement Group (DIG) to install and manage a Community Hydro Scheme.
The Society will donate Hydro profits to support local projects identified by DIG's Community Action Plan.
Awesome Energy (Dalriada) Limited was set up to develop and operate renewable energy projects for the benefit of DIG's operating area. DIG is a charitable organisation supporting the rural communities of Inverinian, Dalavich, Lochavich, and Kilmaha, situated by Loch Awe in Argyll, on the west coast of Scotland.
The first project proposed to develop a 350kW run of river hydro scheme on the River Avich.
This community run-of-river Hydro Scheme was commissioned on the 31st January 2018, after many years of hard work by local residents. You can find out more about the work involved in completing the project, and the operation of the Hydro Plant by visiting our Hydro Scheme page.
AED gifts all profits to a Community Benefit Fund for use by the community to advance and improve local facilities and amenities.
This fund is operated by DIG and is used to fund a range of projects that support DIG's charitable purpose, benefitting residents, visitors, and the local environment in line with the Community Action Plan, thus improving the long-term viability of the area.
SAVE THE DATE - 11th MAY 2024
The date for our Annual General Meeting 2024 has been set for Saturday 11th May.
Members will receive confirmation date and time direct to their contact email or address. Updated information will also be posted on our news page.
TAKING AWESOME ENERGY FORWARD
AED and the Board of Directors are delighted to welcome Patrick Marshall, and David Wilkinson as new Members of the Board.
Patrick was elected at the AGM. David was co-opted on the same day, when he answered Sam's call for volunteers.
If you think you have what it takes to drive Awesome Energy forward, and would like to join the team, then we would like to talk.
To find out more or start a conversation contact Sam Marshall ⚬